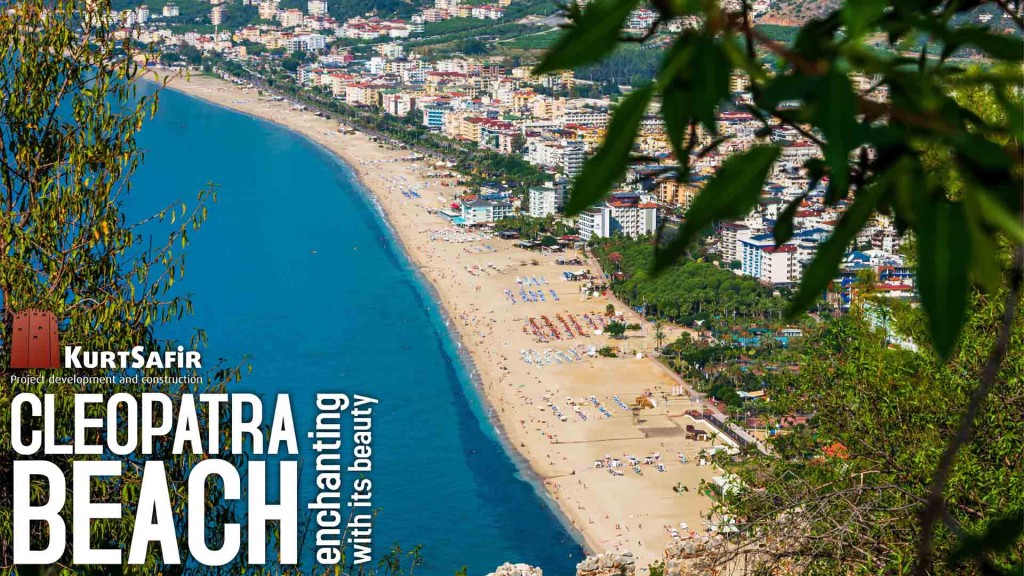 Guide to Cleopatra Beach in Alanya: Access, Attractions, and Tips
 Foreigners even get married on Antalya's most amazing beaches.
The legendary Cleopatra Beach is one of the most beautiful beaches in Turkey, clearly worth visiting during your trip to Antalya. With its crystal-clear water and numerous water sport activities, it attracts about 2 million tourists a year and gets more and more popular every year.
In this article, you will find all you need to know about Cleopatra Beach in Alanya, including what to expect during your visit, how to get there, and helpful information about entrance fees. 
What Can I Do on Cleopatra Beach in Alanya?
Cleopatra Beach was named after the world-famous Egyptian queen, Cleopatra, who is said to have bathed here.
The beach gained fame due to its crystal clear water. It has a legendary reputation among the beaches in Turkey. Today, the 2 kilometer long beach is considered one of the most popular seaside resorts for sun-seeking tourists.
Cleopatra Beach is cleaned daily. It consists of a comparatively coarser-grained sandy beach, which is said not to stick to the body due to its texture.
The beach has been awarded the "Blue Flag" status, which stands for good water quality and environmental management.
The sea is shallow up to 8-10 meters. However, it gets deeper after that, so caution is advised, especially for children.
There are amenities such as toilets, showers, changing rooms, as well as sunbeds and umbrellas for a fee.
Thanks to numerous snack bars, you can buy snacks and cool drinks on site.
Although the high season from June to September is considered a favorite for a beach vacation, the low season also has its advantages. The water temperature rarely drops below 20° and it's less-crowded.
Beach Activities
Cleopatra Beach is ideal for water sports. You can enjoy sports such as parasailing, surfing, kite surfing, and scuba diving. Other activities like jet skiing, sailing, and beach volleyball are also options here.
Children will also get their money's worth. Apart from the sea, young children can let off steam in the amusement park west of the beach or in Atatürk Park with a mini-golf course.
One of the highlights is the promenade about 100 meters from the beach. It's a popular meeting place. Here you can find several cafes, bars, restaurants, and hotels. In addition, the promenade is lined with many stores and souvenir shops.
Nearby Attractions
Since there are attractions near Cleopatra Beach, it is easy to combine a day at the beach with sightseeing.
Popular attractions in the area include the Alanya Archaeology Museum,  Damlataş Cave with the adjacent Damlataş Beach, Alanya Castle and the historical Kızıl Kule (Red Tower).
The nightlife in Alanya is also popular. 
Entrance, Tickets, and Tours
Entrance: Admission to Cleopatra Beach is free of charge. Sunbeds and umbrellas are available for a fee. However, you can bring your own umbrella or spread your beach towel on the beach.
Boat Tours: You can find many boat tour options online. We recommend to book in advance and be prepared for amazing trips. Here are options for boat tours in Alanya.
Tip: To book amusement parks, museums, and tour tickets in advance of your trip to the Antalya region, don't hesitate to check out the deals in our official shop.
Antalya Ticket Shop              
How to Get to Cleopatra Beach
Cleopatra Beach is located on the west of the Alanya peninsula in the Antalya region. At the entrance of the beach there is the famous Damlataş Cave with Damlataş Beach in front of it.
Cleopatra Beach is situated about 2 kilometers from the center of Alanya.
By public transport or taxi from Alanya:   You can reach the beach easily with public transportation. Bus lines 1, 40, and 50 stop near the beach. A good alternative is to take a taxi.
From the Antalya Airport :   About 120km from Alanya, you can either rent a car or arrive by bus. 
FAQ (Frequently Asked Questions)
Is the entrance to Cleopatra Beach free of charge?
Where is Cleopatra Beach?
How do I get to Cleopatra Beach?
Are there toilets and showers at Cleopatra Beach?
The History of Cleopatra Beach
According to legend, in ancient times the Roman statesman, Marcus Antonius, gave the city of Alanya to the last Egyptian queen, Cleopatra, as a wedding gift.
The Egyptian queen is said to have enjoyed staying here and swimming in the bay. For this reason, the beach bears the name of Cleopatra today.
Cleopatra Beach is one of the most popular beaches in Turkey with about 2 million visitors annually.