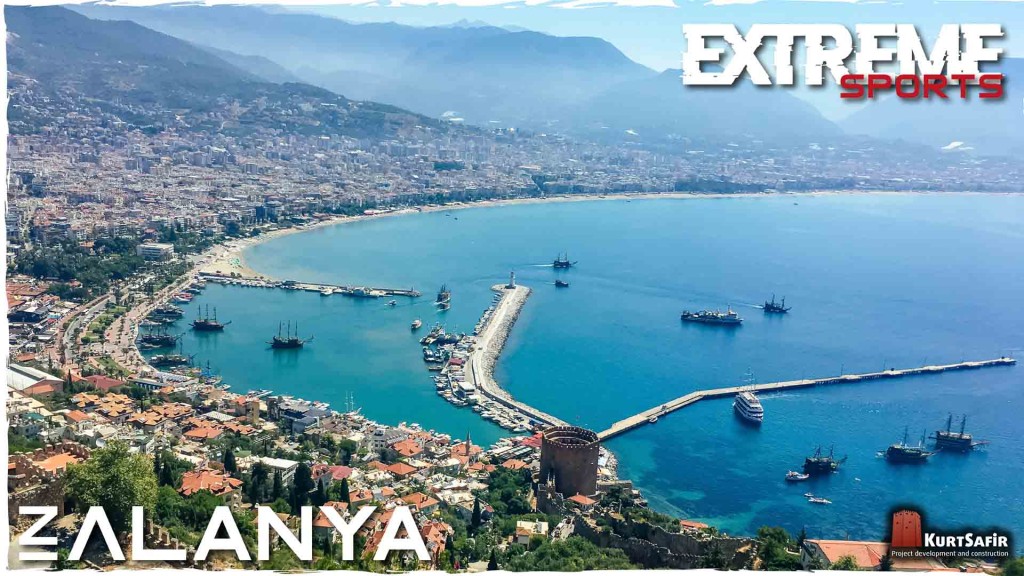 EXTREME SPORTS IN ALANYA
Extreme sports, also known as action sports or alternative sports, sporting events or pursuits characterized by high speeds and high risk.
Alanya paragliding tour is an exciting and full of adrenaline flight by experienced paragliding pilots from the 700 meters high Yassı Tepe hill (in the Taurus mountain) to the world famous Cleopatra beach. It takes about 20 minutes. Firstly; You will be informed by professional pilots about flight, safety and paragliding. Then, after a few steps, the magnificent journey will begin.
  Alanya Paragliding tour offers you a wonderful, unforgettable experience where you will feel like a free bird in the sky of Alanya with its magnificent Mediterranean beach and castle view. Paragliding flights in Alanya take place at 700 meters and take about 20 minutes, depending on the weather conditions that contribute to the thermal cable car. The landing is at the famous Cleopatra Beach. Paragliding can be done easily by anyone who wants to fly without any experience. Paragliding is an extremely safe sport when performed with well-trained and experienced pilots. The equipment used for paragliding consists of state-of-the-art products and the pilots have internationally valid licenses.
There are many opportunities to spend an active day in Alanya, and mountain biking is definitely one of them, as the Taurus Mountains with their 3,000-meter peaks are very accessible. Whether you want to spend a few pleasant hours with your family on one of Alanya's beautiful rivers or prepare for serious competitions such as the European Mountain Bike tour, the terrain around Alanya has it all. The quality of the roads varies from good asphalt along the coast to road conditions of all kinds. In the mountains you will find everything from dirt roads to small trails where good cycling technique is a must. For those wanting to go downhill only there are also possibilities but, since transport to the top is problematic, it could be difficult.                    
Remember that intense training in June, July and August cannot be recommended due to the high temperatures. Always carry with you two bottles of water and refill them at the mountain springs which you will see everywhere.                    
For normal cyclists less demanding trips in the beautiful countryside are recommended. For example it is possible to join trips to local Turkish villages where tourism has not yet affected everyday life. All you require is to be in reasonable physical condition!                    
As an ordinary means of transport the bicycle can also be recommended.                    
The highlight of the year is the annual Alanya International Mountain Bike Cup which usually takes place the second Sunday in October and has participants from all over the world.                    
The race is held in good spirit and follows a most beautiful route around Alanya castle.                     
The race however is not only for professionals, amateur riders can participate. A bicycle licence is required.           
Go diving in Alanya              
Alanya is so much more than just the cosy streets of the bazaar, a throbbing nightlife and a beautiful landscape.                   
The city of Alanyas wonderful position right on the Turkish Mediterranean coast gives unique opportunities for numerous activities, not least when it comes to water sports.                    
One to be most recommended is diving.                    
Though not able to measure up to the underwater flora of the Red Sea, for example, the Mediterranean still contains many challenges for all divers, experienced as well as beginners. This is possiblely due to the large range of dives that is available in many different price categories. As a general rule diving in Turkey is less expensive than similar types of dives in the countries of Northern Europe.                    
The environment in Alanya is ideal for a great diving experience. Almost all of the dives take place near the magnificent Alanya Rock, which divides Alanya into an Eastern and Western part. The Rock provides a home to many different plants and fish and this helps to make diving very exiting. An opportunity for the more experienced diver is deep-sea diving.                   
An extra benefit for you is that you can do it all year, no matter what type of dive you choose.                  
The safety of the dives is also good. Professional instructors who are fluent in foreign languages ​​such as English, German and Russian, and modern equipment included in the dive price will ensure that your diving experience in Alanya will be good.                  
In other words, whether you have dived many times before or if you are trying for the first time, diving in Alanya will not be difficult.                  
This will undoubtedly bring you many wonderful memories and one of the best experiences.                  
 
 Quad Safari   is one adventurous ride which can be experienced by riding on a Quad bike and exploring the Taurus Mountains. You can ride the Quad bike on your own and hence this ride gives a very thrilling experience.
Quad safari
Youngsters love adventure.  Alanya Quad Safari   is one adrenaline ride which must definitely be experienced by all of those who love thrills. Fun lovers can get to enjoy riding Quad bikes and can have a day full of nature views, muddy roads and mountain travelling.
The ATV Quad bikes are adventure machines which drive crazy many young at heart people. One can take this ride with family or friends and also there is always a guide associated with you. The  Quad Safari   takes place in far off locations which are noise and pollution free.
The famous Taurus Mountains are trailed in this Quad safari ride. The Rocky Mountains are another option for these wonderful rides. The ride is full of twists and turns. Many pine forests and muddy streams are found all along the way.
Though riding an ATV is not a daily task, it is not that difficult too. Anybody above the age of 16 can ride the All Terrain Vehicle (ATV). Before the ride an orientation program happens, in which riding the ATV is taught. Also you can practice driving the bike in this session. Driving an ATV also does not require a special license. This orientation program is very useful and helps a lot in this Quad Safari ride.
The entire time from pick up to drop is of 5 hours. The ride is for 2.5 hours and covers 30km area. The ride can be taken in either morning, afternoon or evening group as per your convenience. The tourist are picked from the hotel and dropped back to hotel after this ride.
Water sports are full on excitement, thrill and adventure. At Alanya rafting, you can experience the best whitewater rafting. The rafting takes place in the fierce waters of Koprulu canyon. This 11 hour outing is full on adventure and adrenaline rush.
Alanya Rafting River Koprulu Kanyon                   
Alanya Rafting   offers the best whitewater rafting experience one can wish for. The Koprucay River in the  Koprulu canyon   is the biggest rafting rivers in Turkey and this is where  Alanya rafting   also takes place.
To begin with the tourists are picked from their hotel and taken to the Koprulu Canyon. There are professional rafters here who brief the groups about rafting. One can get all their doubts and confusions about rafting, cleared from these professionals. Following of all tips and guidelines is a must to ensure safety of all rafters.
The drive to the  Koprulu canyon   takes around 15 minutes. On the way, you can visit the Roman Bridge, take some photos and enjoy the waters en route. On arriving at the canyon, rafting equipment and life jackets are then knitted up on the rafters. Swimming and rafting experience is not required and children above 6 years of age too can participate in this with some elders.
The rafting is for around 13 km. And the first 10 km ride is completed before lunch and the remaining 3km post lunch. The rafting consists of the teams and professional guides are always present to accompany the rafters. The water is 12 degrees and the river is 12 meters wide and 3 meters deep. The fierce and breath taking water of Koprucay is splendid and gives you the best time of your life.
This whole day rafting tour has many breaks in between in which you can enjoy lunch, photography, swimming and also tour nearby area. For spending a day worth fully, Alanya Rafting    should surely be experienced.